GET YOUR FIRST 100 TO 1000 CUSTOMERS IN 30 DAYS OR LESS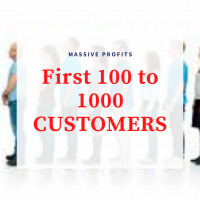 Is the lack of enough customers affecting your business?
Do you need a consistent stream of new customers to patronize your business?
Do you need a guaranteed system of getting customers so that you can make massive profits for your business?
According to research, 85% of businesses take 2 to 4 years to get to 1,000 customers. The same research has it that businesses that have a clear and effective customer acquisition system reach 1,000 customers in 30 days or less. A typical example being franchises.
You do not have to wait for 2 to 4 years for something that can be achieved in 30 days or less. The solution is the:
FIRST 100 TO 1000 CUSTOMERS COURSE
This course will:
Give you a customer acquisition system that is failproof. It works all the time on various business models. Valued at $450.
Enhance your decision making skills and give you three valuable decisions to make that will revolutionize your business. Valued at $200
Explain to you two unique strategies that will bring in a perpetual flow of customers on autopilot. Valued at $350
Provide you with a To-Do list that will practicalize every concept and make sure results are produced. $120
Boost your profits so much that you would wonder why you had not gotten it earlier. Value is priceless
Give you examples of businesses and how they implemented these strategies and the results they obtained. Value is priceless
This course was created from the success stories of over 70 businesses that used the concepts explained in this course. Some got their first 100 customers in 3 days, others got 1,000 additional customers in just 21 days. The concepts in this course work and are guaranteed to produce results for you.
For the next 24 hours, this course is going out for a promotional price of $17 to help at least 1000 new or existing businesses attain their customer acquisition goals. The price increases to the original price of $97 thereafter. Click the button below to buy the course and enjoy a stream of new customers in less than 30 days.
PS: Please put your email in the page provided after payment to get the course in your inbox